Post by Outcast on May 27, 2021 16:14:57 GMT -5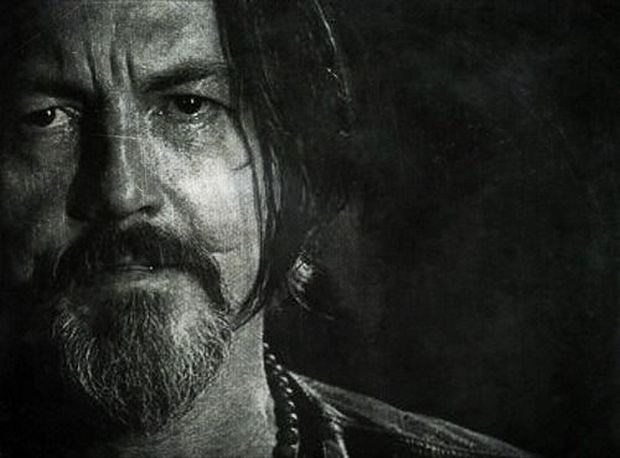 "Would you like fries with that?"
That has been my new catchphrase since GCWA closed its doors. Funny how I felt like I had a rocketing tied to my ass one minute, the undefeated X-Division champion, and then the rocket fuel ran and the rocket ship to the top burned up like the Challenger.
I watched Xavier Lux grab the Crowning Achievement and then got my walking papers as GCWA locked the doors. I gave years of my life, my blood, sweat, and tears to that company, and in the end, it was just "don't let the door hit ya where the good Lord hit ya".
Guess it's true, that sometimes-falling feels like flying.
I wish I can do more
Wish I can take it all away
But I know God has His reasons
So it all will be okay

But they say that
Falling feels like flying
For a little while

Maybe today will be the day I do it. But how? Slug to the temple? Maybe score a full script and chase it down with a bottle of Goose, and just fade from existence like my name faded from the memory of fans". These are the thoughts that danced in my head as I scooped another large order of fries. Wear your mask and get your vaccines, never mind that obesity kills more people a year than the Wu-Tang flu. F**king sheep.
But, who am I to talk? A fifty-some-year-old working at a fast-food restaurant. Worse than a never was, I'm a has been.
The only skills I've ever acquired over the years in this rock are fighting, getting high, and minimal skilled jobs that pay minimum wage.
I drop a hot load of fries onto a pile of sh*t crammed between two buns when I hear the unfamiliar sound of a text message. I pull my phone out to see a message from a number I don't know, and as I swipe my phone open to read the message, I hear my managers' shrill voice. "
Christian, get off that phone the lunch rush is coming
".
B*tch as I call her, but Barb is her government name. She's around my age and thinks she is some titan of industry because she is a shift leader at McBurger. I feel her eyes that sit in a constant RBF staring at me, so I drop the phone into my pocket and scoop another large fries. As I drop the golden potatoes into the cardboard grease trap, I hear another text.
I look over my shoulder and see Barb trying to fix the ice cream machine. I swear that damn thing is broken more time than not. With the supreme burger ruler occupied with the broken machine I pull my phone out and quickly open it to read the message.
I'm stunned.
So stunned that I drop my piece of sh*t Boost Mobile phone into the fries. The jarring sound of the $50 phone against the industrial steel draws to attention and her anger.
"
I TOLD YOU TO PUT THAT PHONE UP! THAT'S IT! YOU'RE GETTING A WRITE UP
", the Burger Baroness screams.
I feel a smile crawl across my face. I haven't felt this since I crushed Jackson Hart's skull in with a steel chair. I turn to face Barb.
"
F**k you
", I say in a tone that carries pure joy.
She is shocked, her jaw hangs open, and for once she is speechless.

F**k you. F**k this job. But most of all, F**K THESE FRIES!
I shoved both hands into the trough of fries, and it burned like a son of a b*tch, but my adrenaline pushed me past it. I slung fries with both hands and showered Barb the Hut with the crispy potatoes. I followed that up by throwing my hat across the restaurant and ripping my company-issued polo off like I was Terry Marshall before a match.
As I walked out the door to my car, I popped a Newport into my mouth and felt something besides my sizzling hands. It was a feeling I hadn't felt in a very long time, a feeling that I was about to head home.
Look out OCW, the bastards back.
I hopped in my truck, luckily, I had paid cash for it with my Fright or Flight bonus. Good thing because I couldn't afford the payments on it with a fry cook's salary, even if it was a 2010 model with seventy-five thousand miles. I smile as I take a long drag from the Newport, and as I pull out of the parking lot...
WHAM!
Darkness.
Just hold on

Cause they say that
Falling feels like flying
For a little while

My eyes slowly begin king open. I see a familiar sight, not a loved one, not a dear friend, but an empty hospital room. I look around and see that I am hooked up to monitors of all sorts. I push myself up in the bed, my body is sore all over, but especially in my hips. I reach up and touch my forehead and feel the sting of a freshly stitches wound.
Just my luck. Finally, get called back up to the big show only to suffer a devastating blow. How many more shots will I ever get? How many more matches do I have left in me? How much longer can I hold on? Am I flying, or am I falling?
Ain't no use as I can see, in sittin' underneath a tree. An' growlin' that your luck is bad, and that your life is extra sad. Your life ain't sadder than your neighbor's. Nor any harder are your labors. It rains on him the same as you, an' he has work he hates to do. An' he gets tired an' he gits cross,
and he has trouble with the boss. You take his whole life, through an' through, why, he's no better off than you.

If whining' brushed the clouds away, I wouldn't have a word to say. If it made good friends out or foes, 'd whine a bit, too, I suppose. But when I look around an' see, a lot of men resembling me. And see 'them sad, and see them gay, with work to do most every day. Some full oh fun, some bent with care. Some having troubles hard to bear, I reckon, as I count my woes. They're 'bout what everybody knows.

The day I find a man who'll say, he's never known a rainy day, who'll raise his right hand and swear in forty years he's had no care, has never had a single blow and never known one touch of woe. Has never seen a loved one die, has never wept or heaved a sigh. Has never had a plan go wrong, but alas laughed his way along. Then I'll sit down and start to whine, that all the hard-luck here is mine.
There's an old saying, "if it wasn't for bad luck, I'd have no luck at all". I channeled that as one of my life mantras of "if it ain't as hard as it can be, don't sign me up". As is evident by my current situation, that saying still rings true. It's as if I am Sisyphus, destined to push the boulder up the mountain every day, only to watch it roll back down when I near the top. For some reason, I never give up though, you could call it hope, drive, or discipline, but the truth is I'm just to f**king stubborn to let life beat me. That's why I'm back in the sport, back in OCW, back to push that boulder up the mountain.

The name of the mountain has changed, but it doesn't matter if the mountain is GCWA, OCW, OBGYN, or whatever f**king initials you pin on it, it's the mountain of professional wrestling and I'm still the Outcast. I see some new faces here, but I'm more interested in the familiar faces, key among those is Xavier Lux. Xavier, I'd be lying if I said I didn't think about you almost daily. At first, I'd wake up every night from a dream that replayed you capturing the Crowning Achievement as GCWA floated away into the ether. Then it turned into a dream of me hunting you, and every time I thought I was ready to pull the trigger for the kill shot, you'd disappear. Now... now the dreams are more basic, more primal... now I just dream of revenge. And finally, at Massacre, my dreams will come true.
I take a deep breath and sigh heavily as I look at my current situation and think about where I am supposed to be in a few weeks. I shake my head.
This goes out to everyone in the Prison yard match, but especially to you Xavier. I may be down right now, but I'm used to crawling out of a hole to start my journey up the mountain. To quote Richard Pryor, I ain't dead yet motherf**kers, and only death could stop me from making it to Quarantined.

I got a lot to make up for, lost time, past discretion, promises unkempt, and a championship I wanted but was never able to achieve. My past in OCW mirrors my past in GCWA, the guy who was just outside of the top. The person the next big thing beat on their way to the top. I just about had that turned around in GCWA when that b*tch fate pulled the rug out from under me. So, here I am again, to do it all over again. This time though, I'll die before I let Xavier Lux or any other son of a b*tch get their hands on the grandest prize of them all.
I give a smile, not because I'm happy, but because I know what is to come.
I've shared a past with some of the people in this match, and after Quarantined out futures will forever be intertwined. Our sweat will mix, our blood will mix, and our bodies will all be broken in pursuit of one championship. Sure, there are three other championships up for grabs besides the OCW championship, but let's be honest, we are all here for the OCW championship and anything less than that would be exactly that… less than.

That's what I've been called my entire career… less than. First, in GCWA it was less than Animal Thug and Shannon Shag-Nasty, then I moved on to the OCW where it was less than Bifford and TGO, and then the last run of GCWA, less than James Raven and Mack O'Connor. That less than sh*t, that's all over. This isn't a fresh start, it's just a new chapter in the same book, but it's time that I do not only get that f**king boulder to the top of the mountain, but I push it over the top and watch it crush everyone else climbing up the other side.

Curt Cannon, you'll be short work. Dylan Thomas, the definition of over-hyped and egomaniac. Ed Houston, well I guess it depends on which Ed Houston shows up. Zybala, wrong OCW pal. Vaughn, keep to cleaning toilets, you can't handle this sh*t. Brim, welcome to the party pal. And the best for last, Xavier, oh how I hope you are in my ring, or cell block, or whatever the f**k they are calling it. But, if you aren't, I'll fight my way to you, because the only thing that will be sweeter than leaving with the OCW championship, will be beating you for it.
I've flown, and I've fallen, but time and time again I rise and push that boulder up the mountain. Life is a grind, get used to it, I have and it is what has allowed me to out grind everyone I've ever stepped into the ring with. It took my twenty years of grinding and shoving that boulder up the mountain before I got revenge on TLS, but now it will have only taken me a few short months of grinding to get my revenge on Xavier.

As for the rest of you, I…
I'm cut off, my train of thought derailed as the door opens and a nurse walks in pushing some cart with a computer on it, like a substitute teacher with a TV back in the day. She doesn't notice I'm sitting up as she types away on her computer. She sighs and pulls the stethoscope from around her neck as she looks up at me. Her face gives away that she is shocked to see me sitting up.
Oh my, let me get the doctor.
To be continued.