Post by Vicky Stone on May 7, 2023 11:04:26 GMT -5
THIS IS A TRUE STORY. The events depicted take place in Los Angeles in 2023. At the request of the survivors, some of the names have been changed. Out of respect for the dead, the rest has been told exactly as it occurred.

---

"When I was a kid, the people next door had this little yappy pug puppy that I used to throw rocks at all the time. I thought it was really tiresome and looked dumb. But I never made fun of it again after it saved my life. How did it save my life? It's actually kind of a long story. Too long to tell right here and now. But as you can imagine the story is full of heart, exciting and thrilling moments. With a twist ending that will literally blow your mind and head apart (not THAT literal I guess). And let's just say afterwards I never threw a rock at that pug again. You know I guess I can try and tell some of the story here because of how good it is. I'm still amazed by it to this day. The things that happened to me and that pug on that day will never leave me. Well… briefly what happened is this: I was skipping across a vacant parking lot near my house when I heard a noise. I turned around dramatically and.... You know what? This story is just too complicated to try to tell here. Just believe me when I say that the little pug came out of nowhere to attack a baby alligator. Where did the baby 'gator come from, you ask? Okay, I guess I can at least tell that part. Ok here it goes… No, you know what? I'm going to change my mind again. It's just too difficult to go into full detail to tell right now--although if I did go through it and told you it, you would be glued to the edge of your seat. It's that damn good. Maybe someday I'll tell the story of a pug versus the baby alligator. No… no, I won't. It's a really good one though."



Editors Note: (This was the end of the interview we had with Vicky Stone. This was the answer we got when asked if she was excited to be on the main roster in OCW. We at WrestleFart.com believe Ms. Stone was high on some kind of drug substance.)


---
(8 HOURS LATER)

A shot of a suburban home in Los Angeles. The home is covered in toilet paper as if some rebellious kids recently vandalized the house. A glass shatter inside the home can be heard. As this happens a police cruiser appears on the scene. Driving up the gate is when a frightened The Wizard comes running out of the house. He is in his boxer shorts with his wizard hat on his bearded and long haired head. He is followed by Vicky Stone in a torn red dress waving around a hockey stick. The police quickly jumped out of the car.
"You've been seeing her haven't you, Wiz? You piece of shit. I can smell her on you…"
"Ma'am. Put down the hockey stick…"
"Officers. She is crazy . Please do something…"
'Step aside, sir. Ma'am. You need to calm down."
Vicky starts swinging the stick in all directions.
"No! No! He needs to leave. Not only is he cheating on me with that turnip loving whore. He also used up all of my magic markers, ate all my pancake mix and stole my hot air balloon that is fueled by happiness…"
…
Silence as the two officers look at each other.
"...ma'am have you had any drugs or alcohol tonight?"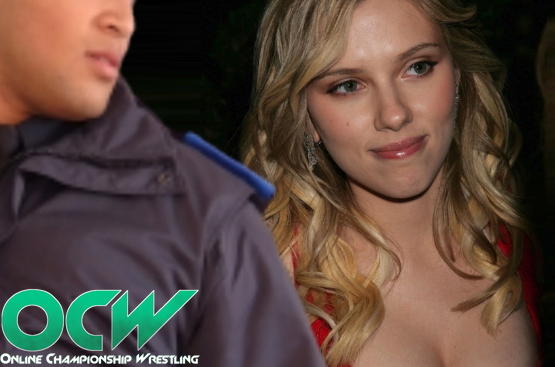 "Huh? No… no… of course not. Ok I had a few pills I assumed were quaaludes. Turned out to just be a bunch of mints."
"She's been huffing glue since she woke up this morning, officers!" The Wizard says hiding behind the cops.
"YOU COCK SUCKER!"
Vicky rushes The Wizard with the stick in the air but the cops stop her and pull her down to the grass. Some of the neighbors watch as the cops put the handcuffs on her. They lift her up and hold her still. Checking her eyes with their flash light.
"Ma'am. You need to settle down. Can you explain what happened here tonight?"
"First of all Mr. Officer. I was NOT on glue all day. I just fell asleep with it open by my nostrils and I guess it made me a little loopy. Then… then… I wake up to take a quick pee and make a sandwich. Now you might think I was hallucinating but I look over and I see HIM making sexual intercourse with that tramp Fanny. And that's not all… it was like the scene in EYES WIDE SHUT. They were being watched by men in masks and cloaks sniffing my magic markers… and to top it all off this is all happening not in the living room but in the sky in my rainbow colored hot air balloon. Which *I* filled up with happiness earlier that day…"
The cops look at The Wizard who just shrugs.
"Has she taken anything else?"
"I…"
"Don't talk to him, Officer. He's a bottom feeder. He even spoiled the ending of The Sixth Sense for me tonight…"
"Wait a minute. You spoiled it for me, Vicky! I told you I heard The Sixth Sense is really good as I have never seen it before. And you instantly said with your mouth full of pancakes 'BRUCE WILLIS IS A GHOST AT THE END!' Which I assume is quite the suspenseful reveal."
"It really is…"
"See…"
"YOU PIECE OF SHIT! It's been out for over 20 years! You should have seen the freaking thing or at least have it been spoiled before. It doesn't make sense…"
"She makes a point… um. Question. Why is your home covered in rolls of toilet paper?"
They all look at the house as Vicky squirms around in the handcuffs.
"Um. Well Vick' is a pro wrestler. She recently found out she was finally put on the main Online Championship Wrestling roster tonight. She was interviewed by WrestleFart.com and everything. She was nervous about the interview so she huffed on gas and glue… which has been getting out of hand recently, Vicky. You know this is true…"
"YOU SHUT YOUR FILTHY LITTLE MOUTH! WHY DON'T YOU TELL THEM MY LIFE STORY WHILE YOU'RE AT IT! LOOK!... LOOK!... Look… look.
Vicky takes a deep breath to calm herself down.
"Look… I got a little nervous. I found out that I am wrestling someone named Hanari Carnes in my debut match on OCW PILEDRIVER. I tried to do some research on Hanari on the OCW website and found nothing. So I got a bit anxious. I had this interview with those wrestling fart heads. This was during the day when I was doing my crafts with glue…"
"What kind of crafts, Ms. Stone?"
"Oh God…" Wizard says shaking his head.
"YOU SHUT UP! I do crafts, a lot of women and men do it. I like to super glue apple and orange peelings to sticks I find in my backyard. Sometimes I glue dead bees on them too. It's just a hobby, alright!"
"But… why?"
"Why does the sun come up? Are the stars just pinholes in the curtain we call night? Peelings and bees are my art. If SOME PEOPLE don't like it then they can stress their opinions to me with cash from their wallets. It's my freedom… or BEEdom to do so. But yes… I sniffed a little bit of super glue before my interview. So what? That's not illegal. Is it, officers?"
"Um. I guess not. Um. But why is the house toilet papered again?"
"I'M GETTING THERE GOD DAMMIT!"
"Lower your voice ma'am!"
"Look. I sniffed the super glue. Got dressed in this super sexy red dress and went to do this interview. So I got some gas for the car and… yes, I damped some of it on a rag I was hiding in my purse. Pre-interview. I huffed and puffed and POOF I wasn't nervous about anything. Or Hanari Carnes or my new spot on the main OCW roster. I was simply free and happy and…"
"...she was insane, officers. A real raving idiot. And to explain the toilet paper. It's been like this for weeks. Ever since Vicky started 'using' again she's been tormenting the kids around town. Nothing perverted or anything. But she ran over one kid's bicycle, threw batteries at the skateboarders and flirted with all the neighborhood children's fathers… and even their mothers sometimes. The kids did that to my home as pay back…"
Vicky laughs manically.
"Well the jokes on them. Because those stupid kids who toilet papered our place are going to feel REALLY stupid when they find out how much I pee and how bad my diarrhea is. FREE TOILET PAPER! WHAT A BUNCH OF FOOOOOOLLLLLS!"
Vicky jumps up and down as the officers try to keep her still.
"Ma'am. Please… calm down." They look at the Wizard. "Um… mister?"
"Oh I'm the Wizard. Some people just call me The Wiz."
"Like your dirty turnip slut whore, Fanny?"
"Settle down Ms. Stone… Do you want to press charges?"
The Wizard looks concerned at Vicky as she sticks her tongue in and out like a snake at the cops holding her.
"I think you should take her in for the night. In the drunk tank or something? Just so she remembers how she acted tonight. I will pick her up in the morning if needed."
"... baby! I'm sorry… I didn't mean to try and murder you with my signed Billy Bob Thorton hockey stick…"
"Why Billy Bob Thorton?"
"He's a strong fucking actor that's fucking why Mr. Nosey panties. Look, Wizzy. We can get through this together. We don't need to press charges, do we? Give me a hug… c'mon. Come here…"
The Wizard hesitates but slowly walks to Vicky. He goes in for a hug but Vicky snaps her head back and forward giving a devastating head butt to the Wizard's nose. Breaking his nose it gushes blood as Vicky begins laughing. The cops drag Vicky to the cruiser as she loudly hums what appears to be "Brickhouse" by the Commodores. The force into the back of the car and the door slams shut. Vicky starts getting woozy and passes out on the seat. The last thing she would hear is '
Oh god dammit, she is urinating…
"
---

WrestleFart.com:
So Vicky. Thoughts on the new direction of OCW under owner Tamika Strader and going into Piledriver against Hanari Carnes?
Vicky Stone:
Who is that anyway? I went to look Hanari up but couldn't find zip. But it doesn't matter. Hanari, Carnie, Barney. It doesn't matter. I lost at Wheel of Misfortune last month. But I am ready for the challenge. I still plan to make an impact in OCW. If I have to go through Hanari The Dinosaur to do it. That's what I'm gonna do… as for Tamika and OCW. I think it's a cool mix. Girl power! She's a smart lady and she knows talent when she sees it. Hence why I am there. She won't have any regrets hiring me to the main roster. That's for damn sure. O.M.G.! LOOK BEHIND YOU!
Editor's note:
Vicky would point to the window where we all looked. Upon looking back at Vicky, she was placing a soaked rag into her purse. The smell of gasoline was overwhelming.
---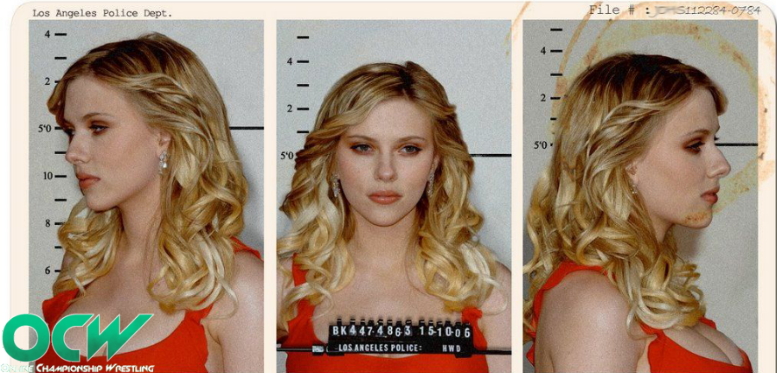 NEXT DAY
Los Angeles Police Department - Drunk Tank

Vicky slowly awakes. Lifting her head off some large black woman's bosom which we assumed was used as a pillow. On the right side of her is a skinny white woman, whom we can only assume was on crack. Vicky staggers to her feet, holding her head and walks to the jail bars.
"Where Am I? What is happening? Why am I all wet and smelling like pee and… Oh. Right… I get it…"
"Please step away from the bars ma'am."
Vicky pouts.
"Look… I am kind of a celebrity. I wrestle for Online Championship Wrestling. My first television match in years for a major company is this month. It's against Hanari Carnes or something. But I don't know who the hell that is! Usually I like to do my research in the mid evening. Have a glass of wine, sit in the backyard in my hammock, and look up my opponents to see what they are about. It's very relaxing and chill. Eventually I switch from wine to hard liquor. And then of course after that liquor to just simply sniffing paint thinner. And so on and so on… just a girl being a girl. You know how it is…"
"You're telling me this because…?"
"Shit, man! Help a gal out. Let me out of here so I can do some real match research on this person instead of sitting in some stupid drunk tank between tons of fun and the skinflint over there. Help me out. I don't even know if Hanari is a woman or a man. Or both. Hell she could be some cyborg machine sent from the future to murder my babies I may have one day. I don't know what to expect…"
"Please sit down, miss."
"Can I get at least a change of clothes? I'm all icky right now."
"Sit! Now!"
Vicky raises her hands and walks backwards to her seat between two other passed out prisoners. Sne folds her arms and pouts. FInally she lays her head back on the bigger woman's breasts.
---

WrestleFart.com:
Vicky. Do you really think you can do well in OCW in the year 2023? The roster may not be as stacked but the talent pool they have is very impressive.
Vicky Stone:
You just watch and see. I slipped up at OCW Wheel of Misfortune. But I am going after Hanari with everything I got. Hanari Carnes will have to bring a laser gun from the future to take me down. I am the future of OCW. And the future's so bright I should be wearing shades… like that one song. Do you remember it? Why don't you find it on Spotify? I need to use the restroom… don't worry. Just tinkles. Be right back…
Editor's Note: Vicky Stone would return to the interview 45 minutes later high as a kite. But we want to thank Ms. Stone for the time she gave us and wish her luck against Hanari Carnes and a safe and *clean* run in OCW.