Post by Vicky Stone on Mar 23, 2023 10:02:38 GMT -5
The crowd is hot as Morgan Freeman walks out on the stage where three podiums are set up. Behind him is two large draping banners with the faces of Vicky Stone and Fanny on them. Morgan stands behind the middle podium.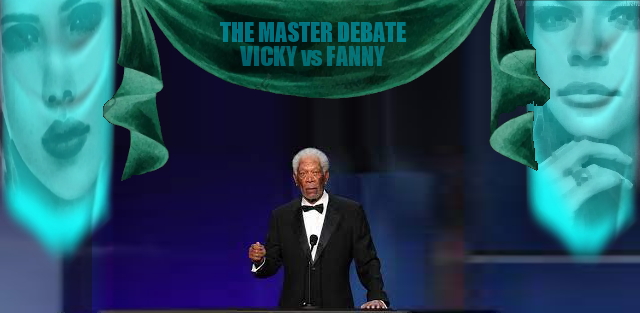 Morgan Freeman: Hello. Ladies and gentlemen. And welcome to The Master Debate. Tonight will feature Vicky Stone versus Fanny in the final debate before the final MEATing at OUTSIDERS Dystopia 31: War Games. First welcome leader of Team Vicky. Vicky Stone.
~Vicky Stone enters the stage to a loud reaction of BOOS from the crowd. She comes out chanting USA! USA! USA! It doesn't help. She walks to her podium.~
Morgan Freeman: And leader of Team Fanny... Fanny!
~The crowd cheers as Fanny also comes out chanting USA! USA! USA! Despite being from Canada she still gets a good reaction from the audience as she approaches her podium.~
Morgan Freeman: Hello ladies...
~Vicky and Fanny (off microphone) begin bickering at each other. Clearly trash talking one another.~
Morgan Freeman: Settle down ladies. Settle down. Don't make me put my rings on. Got that? Does Morgan Freeman have to slap a couple hoes?
~They stop arguing and stop looking eact other.~
Morgan Freeman: Good. Now it's simple. I am going to ask you both a series of questions. And I want you to answer them honestly. Are you ready?
~Vicky and Fanny nod.~
Morgan Freeman: I said... ARE! YOU! RRRRREADY!?!!?
~Awkwardly, Vicky and Fanny nod and mouth the words 'Yes' to Morgan.~
Morgan Freeman: Cool.
~DRAMATIC MUSIC PLAYS~
Morgan Freeman: Vicky... in your opinion how did this feud with you and Fanny begin?
~Vicky laughs~
Vicky Stone: Well apparently in the eyes of Fanny over there. I stole her boyfriend THE WIZARD from her.
~The crowd boos~
Vicky Stone: But that's far from the truth, people. Wizard and Fanny were never a couple. Fanny was just an obsessed fan of the Wizard in XWF. Sure, maybe Wizard gave her the pole in the whole here and there. But it was never an official romance. What I offer the Wiz' is the sex of his life. Minus a few pee breaks in between the love making. I give Wizard what Fanny could never... and no that's not just the body of a REAL woman and not one that looks like a 12 year old boy. But I give him passion and respect. USA! USA! USA!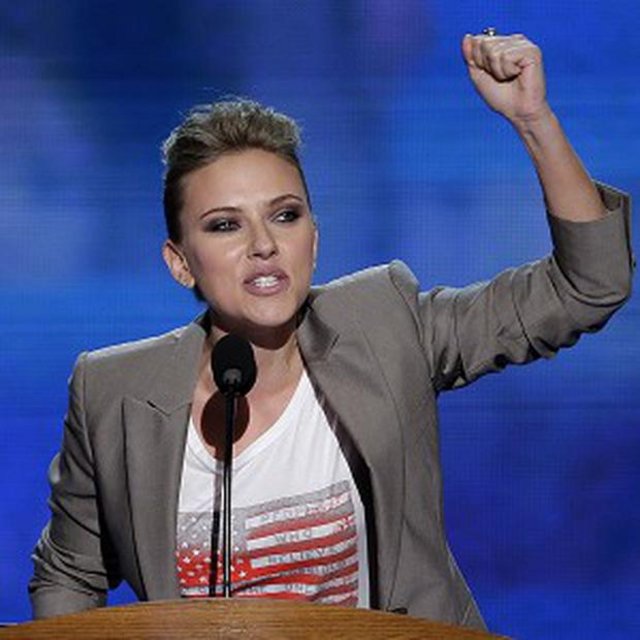 ~The crowd boos.~
Morgan Freeman: And do you feel your WAR GAMES team is superior to Fanny's?
Vicky Stone: Duh, Morgan. I hope your hand isn't the only thing that doesn't work. And no your brain too. Look at my team. Johnny Money Bags Beckman is a legend. An Icon. And is very well off. He is a major asset to my team. With skill and the mind to lead us to victory. And then we have Old School Ollie Rhule who may or may not have a tooting problem. But he can cut the cheese with the best. That's a fart... a fact I mean! Plus he is undefeated in OCW's short lived series, BOOM! So why wouldn't I be not honored to fight beside these superstars...
Morgan Freeman: Vicky... how do you make the perfect stew?
Vicky Stone: A master of the kitchen never reveals her cooking secrets. But I will tell you this... I don't overdo it with the turnip, Morgan. Anyone who does that is an amateur. And a pig slut woman!
~Vicky winks at Fanny who returns with her tongue sticking out.~
Morgan Freeman: And finally if you're victorious in the cage of meat. And you and Fanny are finally done with another. What is next?
Vicky Stone: I see a bright future for me, Morgan. One that doesn't involve this rinky-dink Outsiders organization anymore. I am over it. I am a star. I am bigger than Outsiders. Bigger than Mikey Z. Bigger than OCW. Bigger than Fanny. Bigger than The Wizard even. I am a star dammit. And when my team wins War Games. Call it my Outsiders resignation. My two weeks' notice. I am Vicky Stone! I am bigger than all of you! You just watch me! And Fanny, one more thing. You scrawny bitch. Come Dystopia 31. Your ass is grass bitch. And I am going to smoke it. How? I will rip that ass apart, mix it with some herbs, force it into a bong or pipe and toke it until I am high as a kite. WORD!
~Vicky does a karate stance in Fanny's direction. Fanny gives her the finger.~