Post by Fanny on Jan 31, 2023 5:07:28 GMT -5
OCW Decadence - Sunday

"Here we go, bitches."
Fanny adjusts the top of her dress. She exits the yellow cab walking to the crowd of people taking photos of OCW wrestlers entering the event. The cab driver shouts at Fanny.
Akeeb: MISTER! YOU OWE ME $29.75!
Fanny frowns and rushes back with a 10 and a 20 dollar bill.
She waits...
Akeeb: You want change?
Fanny nods using her hands to motion him to hurry up. He flips Fanny a quarter. Fanny misses it as it bounces off the pavement.
Fanny: HEY!!!
Akeeb from the cab: Cheapskate!!!!
Fanny forgets the quarter and enters the crowd of people. She begins waving and smiling at the paparazzi who are taking shots of new OCW owner Adi Gold before she enters the building. Fanny sighs as she doesnt get any attention.
Fanny: HEY!!!
Some turn to her.
Camera Man: What?
Fanny: I'm a wrestler too... take a picture or two of me.
Fanny poses with a fake smile.
Camera Man: Sorry mister. The Drag Show Competition is down the street. Good luck passing off as a woman though. Maybe try a better wig and or make up? Good luck anyway!
Fanny grabs the camera man by the shirt.
Fanny: Listen buddy. I am all WOMAN! I can prove it to you if i have to? Got any protection? A safe? Condom? Rubber?
She looks around.
Fanny: Worry not. There's an old Dorito chip bag. We can make that work... names Fanny by the way.
Camera Man: Tranny... you're hurting... me...
Fanny: THE! NAME! IS! FAH...
Vicky Stone: FANNY! GILBERTSON!
Vicky appears as the camera men rush to her hitting her with camera flashes. She walks next to her with and ear to ear smile.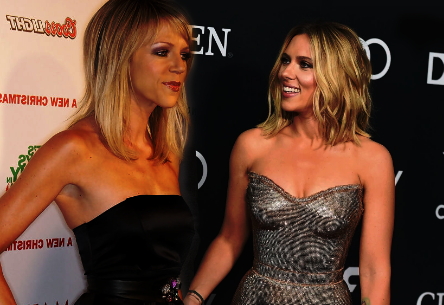 Fanny: Vicky! Stone! Last time i remember i laid you out with a FAN did I not?
Vicky Stone: And didn't Chip Mahoney beat your ass on an episode of BOOM?
Fanny: I wouldnt know. Boom? Isn't that show for children and idiots. Or idiot children...?
Vicky Stone: Then you must be the number one fan.... Fan-ny!
Fanny: Whatever... home wrecker. Stealing my Wiz from me. I knew you always looked like a prostitute but to actually turn out to be one... pathetic.
Vicky Stone: You're such a tool, Miss Gilbertson. First of all the Wizard doesn't even like you. Who would? You look like a dung keep and smell even worse. And why would he bother when he's got this babe to make him the best beef stew he's ever and WILL ever have...
Fanny looks shocked. But fakes another smile for the cameras.
Fanny: HE ADORES MY BEEF STEW, VICK! You know that!
Vicky Stone: Turnip...
Fanny: Huh?
Vicky Stone: Too. Much. Turnip. It ruins the flavor of the stew. Wizard... sorry My Wizzy loves to taste toe potatoes, carrots and meat. Not just old smelly turnip...
Fanny: Wizzy? You little bitch... besides don't say Wizzy too much... you may piss yourself. How is your bladder issues?
Vicky Stone bites her lip in angry but continues to smile.
Vicky Stone: It's fine, Fan'. Thanks for asking. I can't wait until after Outsiders 30 is over. So i never have to tag with you EVER again.
Fanny: Goes double for me...
Vicky Stone; Triple for me!
Fanny: WHAT! EVER! We did pretty good though...
Vicky Stone: We did... we did...
Fanny: We could have gone the whole way too... Alist Fam' is good but not as good as us...
Vicky Stone: Nope. We would have taken those belts...
Fanny: Still can...
Vicky Stone; Still can? After what you did to me on Outsiders 29?
Fanny: Why don't you try and say that again but this time without the Wizard's cock in your mouth, bitch!
Vicky Stone: YOU SMELL LIKE A TURNIP, YOU DIRTY BITCH!!
Fanny: YOU'RE THE BITCH, BTICH!!
Vicky Stone: "TWAT" did you say, Fanny? I 'CUNT' HEAR YOU!!?
Vicky cups her ear with her hand. Fanny winds up a bunch as if she is going to throw a soft ball. Vicky smirks before getting punched in the face by Fanny. Vicky falls to her butt. She snaps and grabs Fanny by the leg forcing her down to the ground. When down Vicky jumps on her stomach pulling at Fanny's hair.
Camera Man: Hey everyone, the Piss Lady is beating up a transvestite over here by this trashcan!!
A bunch of camera people rush to Vicky and Fanny brawling outside the arena. They begin taking pictures of the trashcan as the scene fades to black.
Narrator; CAN VICKY AND FANNY GET ALONG ENOUGH TO WIN THE OUTSIDERS TAKE TEAM TITLES? OR IS THIS TEAM DOOMED!!? TUNE TO OUTSDIDERS 30 TO FIND OUT! OR SHOULD I SAY... TURNIP! EHHH?

EHHHHHHH???