Post by Plethora the Perilous on Dec 30, 2022 11:57:59 GMT -5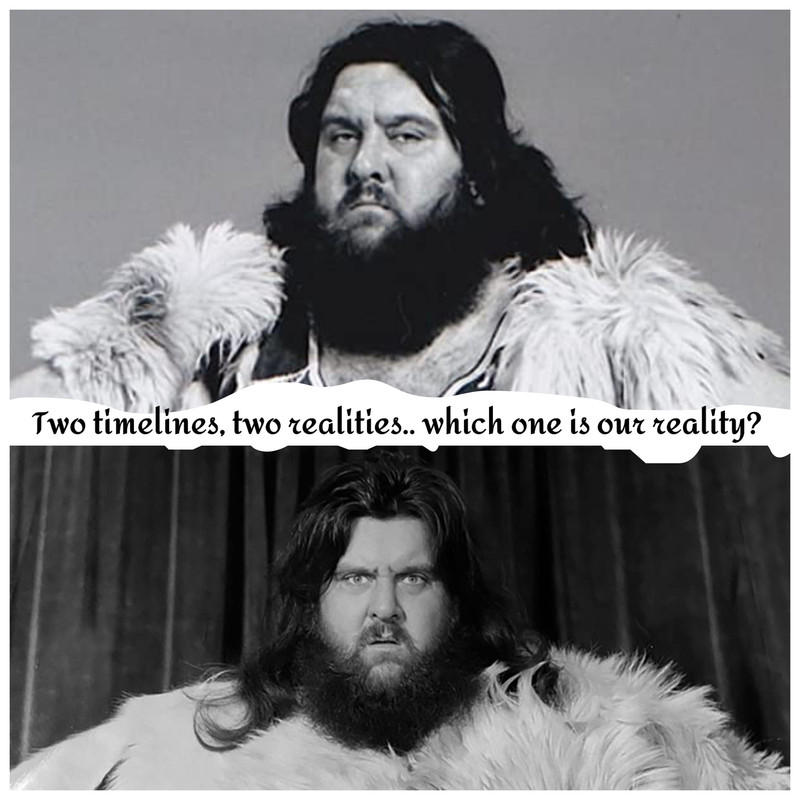 The screen does its familiar flash from darkness to a moment of static to the same image as the other timeline: a white Jeep Cherokee making its way through the snowy roads of Canada. The narrator from yesterday speaks again.

Narrator: The infinite nature of the universe is more than the human mind can really handle. It boggles us to our deepest core that if the universe is infinite, not only do other versions of YOU exist out there - infinite versions of YOU exist. They've all done the same things, but also infinite versions who have done other things exist. When you got out of your car this morning and went right, somewhere hundreds of thousands of light years away, you got out of your car and went left and got hit by a bus. Small choices can make a world of difference, and now we shall see that..

MEDICINE HAT, ALBERTA - THE MORNING OF 12/28/22
The scene fades to darkness and when it lightens up again, Bifford is pulling up to the Medicine Hat Lodge. He stops short of the entry and looks at Earl.

Bifford: This is the best we could do?
Earl: It's fucking Medicine Hat, Alberta, Bifford. This is the nicest place. But we hired a valet.. make sure you fucking tip them, you cheap bastard.

Bifford glared at Earl and then pulled up to the valet just as he did yesterday, however when he stops he begins coughing. Earl gets out of the Jeep and immediately a hotel employee runs out and begins talking to Earl. Bifford gets out and the valet walks over. Bifford mutters something under his breath about having no cash. The valet passes by Bifford and nods. Bifford walks over to where Earl and the hotel employee are talking.

Earl: Hey Bifford, remember…

Bifford and Earl have the same conversation they had yesterday about Martin dying and there being no food. However, unlike yesterday, the woman bystander did not see Bifford make a big show of tipping the valet. She does not come forward. However, a second employee from the hotel hurries out to where the men are standing and whispers something to the first employee. The first employee then leans in and whispers something to Earl. Both employees walk away.
Bifford: What the hell was that?
Earl: They're afraid to speak about what they've seen aloud. They think you must be some sort of voodoo warlord.
Bifford: Huh?
Earl: Apparently Martin the Chef showed up. His reanimated corpse. He's cooking in the back.
Bifford: Uh.. what?
Earl: Zombie Martin the Chef is in the back cooking. He pulled up with a damaged pickup truck full of the corpses of the homeless people he found and ran over. He's making FUCKING CHICKEN SANDWICHES BACK THERE. Our old recipe.
BIfford: Heh.. well.. I guess everything is working out just fine.
Earl: BIFFORD! There's a zombie chef back there making cannibal sandwiches like its 2019.
Laughing and reaching forward to ruffle Earl's short hair like he's a child, Bifford shakes his head.
Bifford: Remember when you used to be a zombie, Earl? In 2014? Clash at the Coast!
Earl: I wasn't really dead. This fucker died of cancer and has been rotting for a year. We can't let any of the guests see where the food came from. Why is this happening? HOW is this happening? Are you going back under the robe like Buffy wants? Is she using her demonic magic to reanimate Martin's corpse?
Shrugging his shoulders, Bifford starts walking into the Lodge. The two men walk into the ballroom that has been setup for Bifford's Wrestler of the Year Celebration Party.
The two men then walk through a door and into the kitchen. There a traditionally costumed Hollywood zombie is leaned over what is probably supposed to be the corpse of a homeless guy. He's butchering the body and making lots of zombie noises. He's wearing a big French chef's hat, just like he used to when he was Bifford's manager in the early 2000s. Bifford and Earl just stop in their tracks and watch for a few moments.

Bifford (whispering): Well it looks like he's got this under control.
Earl (angrily whispering): There's a fucking zombie chef cooking.. I don't know whether to tell you to put on the robe and satisfy the scary demon lady or whether we should fucking run.
Bifford (nervously laughing): There's no running from these people..
The two men stand there watching and listening to Martin the Zombie Chef awkwardly. Bifford then motions to Earl and to the door, "I've gotta run.. gotta.. talk about my opponents. Can you keep an eye on.. this.. situation?" Earl looks at his employer with an irritated look and then nods. Bifford opens the door and walks back into the empty ballroom. He walks and talks to the camera at the same.

Bifford: Michael Zybala, for years I've followed your career more than I do most. I've seen you grow from a goofy lower-midcard act into somewhat of a decent competitor. But I'm going to say something totally honest now, because I didn't tip a valet this morning and then a demon sent a zombie to cook me dinner.. I'm going to enjoy ending your career. I don't like being the good guy. I started my redemption story because it felt right, but nothing feels as right as the idea of putting an end to your laughing stock of a career. Redoing a Christmas Carol for your promotional materials? How original, Michael. Nobody has ever done that one before. However, at New Years Eve you'll realize ghosts can't save you. Your silly fantasies can't save you. Reality is not an epic movie where the underdog wins. Reality is that the big guy has the edge. The most obvious thing is usually what happens. Casinos stay in business because underdogs lose, Michael. I'm going to pin you and I'm going to smile when I do it.
Bifford gets into an elevator with his camera man and the door closes behind them. He presses the top floor's button and then looks back into the camera.

Bifford: Pike, you made it to the top and you won the Championship that I made legitimate again and what has happened? We're doing Massacre at the OCW Arena because you can't sell out the buildings I did as Champion. OCW was riding high throughout 2022 because of my epic title reign, my many defenses, and amazing charisma. At the Rumble, where was the OCW Championship match? I was main eventing while you got a boo-boo in the undercard where you failed at capturing the OCW Tag Team Titles. We used to have a title for guys of your size, Pike.. maybe you can bring it back and restore it to the dignity it had when it was held by the Josh Allens and the Pete Parkers. And you think using my real name makes you cool like you're Dave Shmeltzer of the Observant Wrestling Fan Newsletter? I'm going to expose you as the fake you are - and unlike you, I
will
take great pleasure in ending Zybala's career. I'm going to let you in on a little secret Pike - I'm not a good guy. The redemption story is over. That title is mine.

Bifford storms off the elevator and the door closes behind him, leaving the camera alone. The scene fades to darkness.

30 MINUTES LATER - BIFFORD'S HOTEL ROOM


The scene lights up again to see Bifford sitting on a sofa in his hotel room. He's fast asleep and snores lightly. The camera blurs and we see the scene where the child who asked Bifford for an autograph a few weeks ago strangles Larry the Guard, who was blackmailing Bifford, to death in Columbus. It happened in this timeline too. The scene blurs again and we see Bifford sleeping.

LATER THAT EVENING, COLUMBUS, OHIO

The Bailiff, the last surviving of the three men blackmailing Bifford, walks up to his bed. The lights are all off, but he can see that his wife is sleeping there. He gets undressed and climbs into bed. He rolls on his side and closes his eyes. His wife stirs and rolls over. She wraps his arm around him and the viewer almost anticipates that she will strangle him, like Larry the Guard. But she doesn't. The two sleep peacefully, like a man who thinks he is about to get $15,000,000.

MEDICINE HAT, ALBERTA - THAT EVENING

Bifford is in the restroom delivering the same speech he did in the other timeline about being the top brand: Coca Cola, etc. He finishes the line with "when I left, it just wasn't the same," and heads out just like in the other timeline. He walks into the ballroom full of memorable characters and unknown employees and is met by applause. In the background, one can see a buffet with fruit, at which THE PROCTOLOGIST is standing and licking fruit before returning it to the buffet. Bifford walks up to the microphone on the stage.

Bifford: When I originally invited you here, it was to thank you for all your hard work during my iconic 2022 OCW Wrestler of the Year run.. however, I've come to realize how unimportant you all are.. and how important I am. I am THE BIG BIFFORD - the greatest OCW star to ever lace up the boots and on New Years Eve, I will end the career of Michael Zybala and I will take Pike's Championship and hold it hostage for an entire year. Think I'm repetitive? Wait until I'm pointing out that I ended Zybala's career on every Massacre until I'm cold and dead!
The sound of glass breaking is heard and suddenly the ballroom is full of men in black. The islanders, crashing through every window. They've got guns. The door to the ballroom crashes open and Buffy the Vampire Slayer walks in with Martha Stewart and Kenny's Aunt Bella (actress Margo Martindale?) on each side of her. Bifford looks around nervously and says, "uhh.. thanks to Zombie Martin for the food.. start the music.. let's dance.. and security, get my fucking mom out of here."

Ehud of Moab looks a bit sad that the only woman his age was being taken away by some security guards. Bifford steps off stage and is immediately met by Aunt Bella who asks to dance. He takes Aunt Bella and begins slow dancing with her. "You've gotta put that cloak on.. she's not happy with you." Bifford and Bella dance in silence for a moment before Bifford is tapped on the shoulder by Martha Stewart. She cuts in and then Bifford begins dancing with his exwife. "If you don't show up on New Years Eve as Plethora, she's not going to help you. She got you to win the Rumble. She reanimated your dead chef. She killed two of the men blackmailing you.. she won't kill the other unless you go to the dark side. Put the cloak on, Bifford." He dances with his exwife, his face looking like he's weighing his options. Another tap on his shoulder. Buffy the Vampire Slayer cuts in. She and Bifford begin dancing.

Buffy: When you summoned me as a child, you knew it was forever.
Bifford: I can do this on my own.
Buffy: You don't know that, Bifford. You've never been on your own. I've always been there with my hand on your shoulder. Put on the cloak and you know the title is yours. You'll finish Zybala's career and PIC's reign with a single pinfall.
A blur.

1989, THE MIDWEST (link)


A young Theodore Bryan Benson is playing with a ouija board and Buffy appears.A blur.

1994, THE MIDWEST (link)

A young Theodore Bryan Benson arrives home after disposing of the body of his dead girlfriend. He walks up to the stairs and opens the closet door finding the Plethora robe.

A blur.
MEDICINE HAT, ALBERTA - AN HOUR LATER

The party is still going. Champagne is being passed around and people are toasting. The islanders stand around holding torches, which appear to be proving heat as well as light, due to the windows all being broken now.

Clinking a spoon against her champagne glass, Buffy the Vampire Slayer quiets down the crowd of partygoers. "Ladies and gentlemen, I propose a toast.. to OCW's 2022 Wrestler of the Year.. and to our next World Champion. Here's to The Big Bifford.. or should I call him by his better name? Plethora the Perilous!"

People cheer and begin clinking their glasses together, a creepy instrumental version of Auld Lang Syne plays (very different from the other timeline's pop song about love and Auld Lang Syne) and a path forms between where Bifford is standing with Earl and where Buffy is standing near the stage. Earl watches with his mouth open - unsure if he should stop him or let him go.. Bifford walks through the path of people, mostly islanders with their torches. He arrives at the demon he summoned as a child and is handed a glass of champagne.

He stands there in silence.

Weighing his options.

His mind races and his cold gray eyes, that have been warming for months to almost be blue, were gray again. He made eye contact with her and she locked eyes back.

Clink.