Post by Plethora the Perilous on Dec 29, 2022 13:30:58 GMT -5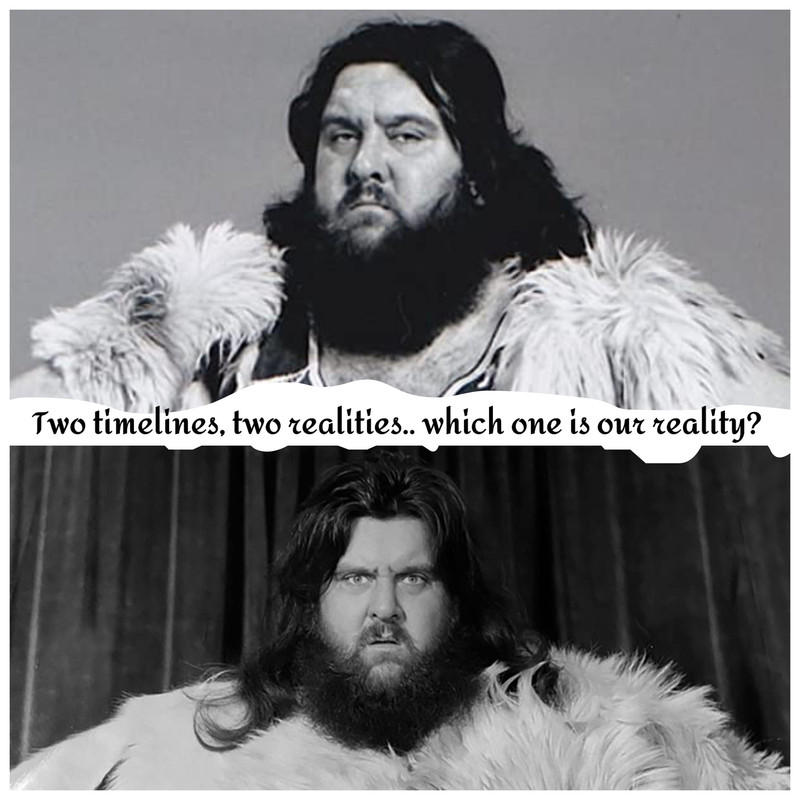 The screen flashes from darkness to a moment of static to a scene high above a lone car that is driving down an empty road. It is snowy and the conditions look less than optimal, but the large white Jeep Cherokee barrels ahead. A narrator speaks over the scene as soft string music plays peacefully.
Narrator: If we believe the universe is really infinite - that is it continues on forever, not only is there other life out there. You exist out there. Not just one of you. But many - infinite versions of the same person. Maybe the version of YOU that you will never meet or see, but has done everything as you have so far in this life, did something different than you this morning. Perhaps the implications of that single act changed the face of human history.. while you're here, sitting in front of your television or monitor, watching Bifford. Today we look at the first of two timelines. What will be different between them and how will the outcome be changed by a single action? Time, if there is such a thing, can only tell.

The camera pans down toward the white Jeep Cherokee and then we find ourselves inside where The Big Bifford is driving and Earl the Popcorn Salesman is sitting in the passenger seat. Earl has a notepad in front of him and is writing things down.
Bifford: So has everyone RSVP'ed?
Earl: Yeah Bifford, we have a lot of people coming.. but I mean.. some of these people.. they've died in our promotional materials before.
Bifford: They're ghosts now!
Earl (sighing): Why are we doing this again?
Bifford: We're throwing a party, Earl. This is the end of 2022, the year that I am bound to be OCW Wrestler of the Year. I'm going to accept the award prematurely at this party and we will party like it's 1999.
Earl: You know that was 23 years ago, right? There will be people at this party that weren't alive then.
Bifford: Shut up, Earl.
The scene fades slowly to darkness.

ONE MONTH EARLIER, COLUMBUS, OHIO

Bifford, Earl, and Kenny the Intern are at the desk of the courtroom during the trial. Cornelius Cook is standing in front of the jury babbling about the oppression that people who wear glasses feel daily. Bifford and Earl begin whispering back and forth.

Bifford: We need to host a party before the show in Fox Creek.. Kenny, call around Medicine Hat, Alberta and find a venue.
Kenny: Bifford, I'm in prison for your many crimes, remember?
Bifford: Oh yeah.. Earl can you get on that?
Earl sighs, but also nods.

Bifford: And send invites to everyone who has ever worked for us.. even minor characters. Invite them.
Earl: Even the "dead" ones?
Bifford: Especially the dead ones.
The scene fades to darkness.

MEDICINE HAT, ALBERTA, 12/29/2022

The White Jeep Cherokee pulls up to a rather unimpressive looking hotel with a large sign that identifies it as The Medicine Hat Lodge. Bifford looks over at Earl with a disappointed look.

Bifford: This is the best we could do?
Earl: It's fucking Medicine Hat, Alberta, Bifford. This is the nicest place. But we hired a valet.. make sure you fucking tip them, you cheap bastard.
Bifford glares at Earl as they pull up to where the valet is standing, looking like they're freezing as some snowflakes fall around them. Bifford stops the vehicle and gets out. He reaches into his MAGICAL FLEECE and pulls out a $20 bill. He makes a big show of handing it to the valet to make sure Earl notices, but someone from inside the hotel has walked out and is already whispering to Earl. The valet thanks Bifford and gets in his vehicle to park it. Bifford walks up to Earl and the hotel employee.

Earl: Hey Bifford, remember when you told me your old manager Martin the Chef would take care of the catering? And I told you that he was just an actor and not a real chef and you said he would figure it out? Well apparently Martin the Chef died of cancer about a year ago and none of us noticed. So there's no food.
Bifford: So Martin will be a ghost..
Earl (sighing): No, Bifford.. Martin is really dead.
Bifford looks at Earl like he has no idea what he's talking about. A woman who was standing off at the side waiting for something walks over.
Woman: You know, I never really intrude in matters like this.. but I saw you tip that poor valet and nobody else has all morning..

Earl gives Bifford an I TOLD YOU SO look.
Woman: There's this old lady who just moved to town.. runs a pie shop. It's amazing and she's looking for new business. I bet she could help you. Her shop is just one block that way.
The woman pointed and Earl and Bifford shared a look, thanked the woman, and then began walking that way.

Earl: So what's your strategy for this show in Fox Creek?
Bifford: Well, Pike is a little fella.. so I'm planning to cradle his body up against mine but with him upside down and then jump and deliver a piledriver that allows me to pin him. Pike's words, while strong and passionate, are empty. I am not some phony or boring wrestler - the crowd goes berserk where I wrestle. My championship reign was clearly the pinnacle of 2022 and the high point of OCW 2022 was my match against Silverfreak and Killer Kal. Pike knows this. Nothing can compare to my reign and it's all going to start over again in 2023. OCW will ride high and when they bring back the Illuminatus, and they will bring back the Illuminatus, it'll be me waiting at the top of that pyramid. And unlike what happened in 2022, whoever fights me in that last step of the pyramid isn't coming back to beat me a few months later, like I did with Outcast. No, I will remain OCW Champion for the entirety of 2023.
Earl: Seems unrealistic.. also seems you're not really considering Zybala.
Bifford: Who?
Earl: Mikey Zybala.. he's in the match too.
Bifford: Oh Michael.. well, after I piledriver Pike I plan to toss him out of the ring and find wherever Michael Zybala's carcass is laying, and then I'll just pin him. Wherever his corpse is.
Earl: What if he's not unconscious?
Bifford: Why would Michael Zybala be conscious at any point during this match? He's in a match against one of the greatest of all times in THE BIG BIFFORD and also Pike who is probably the 4th or 5th best wrestler in the company today.
The two men come to the pie shop that the random woman told them about and they open the door. And old woman is standing behind the counter. Bifford and Earl stop in their tracks. Bifford glares at the old woman and the old woman glares back at Bifford. Fans who watched 2019 OCW will recognize her as The Big Bifford's mother,
who at that time ran a pie shop in North Korea.

Bifford: What the fuck are you doing in Medicine Hat, Alberta? This makes no sense.
Francine: When I got your invitation, I left North Korea and moved here and opened a bakery.
Bifford (freaking out at Earl): You invited my mother!?
Earl: My instructions were - anyone who has ever worked for us.
Sighing and rubbing his temple, Bifford looks frustrated but he takes a deep breath.

Bifford: Hey mom.. listen.. we're in a messy situation here.
Francine: I'm not making any more of your cannibal horror pies. I did that once and once only.. and then I murdered that Russian cannibal friend of yours.
Bifford (sighing): We just recast him the next season with an easier name.. but anyway we don't kill people anymore or do cannibal pies. Earl will go buy you some chicken and vegetables.. we need enough meat pies to feed about 120 tonight. Can you do that?
Bifford's mother looks around at her supplies and nods. Bifford reaches into his MAGICAL FLEECE and pulls out a credit card and hands it to Earl as the scene fades to darkness.

COLUMBUS OHIO, THE EVENING OF 12/29/2022

Outside the prison where Kenny the Intern is being held, Larry the Prison Guard has a cigarette and waits for his Uber. In his mind he's thinking of all the ways he can spend 15 million dollars. He had received a text from Kent a few weeks ago telling him that Bifford would pay, but then Kent went off the radar - but that was like Kent, probably in Vegas on a bender. He pulled out his cell phone with the hand not holding the cigarette and texted The Bailiff (one of the others blackmailing Bifford), "Can't wait to get my money and get out of this cold place." As he hit send, we see a figure begin walking up behind Larry. String music begins swelling under the scene as we see it's
the child who asked Bifford for an autograph
in the last scene and then killed Kent. The small boy walks up behind Larry slowly, calmly. Larry finished his cigarette and dropped it to the ground. The child said one phrase, "smoking is bad for you," before jumping up on Larry's back and wrapping his arms forcefully around his neck. Larry struggled, took two steps forward, and then fell to the ground. The kid's eyes filled with flames like Buffy the Vampire Slayer (the demon Bifford summoned as a child). Larry died.

MEDICINE HAT ALBERTA, LATER THAT EVENING

The Big Bifford, standing in front of a mirror in a private restroom, tied his tie and looked at himself. The tie was too short, but he thought he looked great and you could tell from the look in his eyes. He looked into the camera and smirked.

Bifford: Pike, Zybala, I know you're hoping for a different outcome this weekend than I am.. but on New Years Eve, you're going to experience what I like to call REALITY. I'm bigger than you, I'm stronger than you, I've done this longer than you. On New Years Eve, I'm going to prove that miracles don't happen. Zybala's career will be over, Pike will be shipped to the Paradigm Title division, and once again The Big Bifford will rule over the land. I'm the real deal, I'm Coca Cola, I'm Disneyland, I'm McDonald's. I'm the brand that everyone recognizes and you two aren't. OCW feels most OCW when it's figurehead is bigger than life itself. That's why I'm OCW's 2022 Wrestler of the Year. I made this year.. and when I left, it just wasn't the same.
Bifford straightened his necktie and walked out through a hallway. He walked down it and then entered a large ballroom full of tables. We see all sorts of characters from the past - including "ghosts" like Martin Ka'Barryon and his father, Cocco Ricci and his son, all of the dead people from the NYT, etc. We also see characters from earlier in Bifford's career including Loser-rr, Bifford Jr., Ehud, THE PROCTOLOGIST, Arachne, Boris the Cannibal, and a bunch of the tech crew who do Bifford's videography, office staff, etc. Everyone stops and applauds when Bifford enters. Bifford walks to the stage and up to the microphone.

Bifford: I thank you all for coming here to celebrate my 2022 OCW Wrestler of the Year party. This weekend I will solidify that with my crowning achievement of ending the year as Champion. Let's all enjoy this video celebrating my year..
Bifford steps to the side and a screen comes down. A video plays documenting his 2022 year, complimented by some cheesy love song that incorporates Auld Lang Syne. The video ends and all applaud. Bifford steps back up to the microphone.

Bifford: And so now to end 2022.. I'd like to get a group picture with all of you. The end of this year brings more resilience to my redemption story. Thanks to mom for the food! Let's all pose!

Everyone begins making their way up to the stage for the photo, but Earl makes his way to Bifford with panic in his eyes. "Bifford.. I fell asleep during the video and had a dream. Buffy's Islander army has begun developing fucking guns now.. you gotta put that cloak on and become Plethora again." Bifford ruffles Earl's short hair like he was a child, "redemption story. We're good now.. no evil cloaks.." Earl looks panicky as Bifford pulls him into the photo.
There, surrounded by his mother, friends, crew, and everyone except Kenny and his attorney, Bifford posed for a photo in front of a stage with a screen behind proclaiming him OCW's 2022 Wrestler of the Year. With the photo taken, music begins and people start dancing. We see Ehud of Moab and Bifford's mother slow dancing, while Arachne starts dancing with the cute camera girl. Music plays, people celebrate, and the scene fades slowly to darkness.